Travys Keto Joins Trinity Animation
Trinity Animation welcomes Travys Keto to our animation staff. Travys is a skilled artist, web developer, and graphic designer who joined our team in Spring of 2014.
Travys has enjoyed digital imaging and graphic design since his high school days. He started by modifying the computer games Quake 3 Arena and Counter-Strike, where he would create new multiplayer maps and change how the characters looked. Travys achieved a Bachelors of Arts in Digital Art & Design from the University of Advancing Technology. He excelled at his graphics and design courses, which led him to change his major from Game Design to Digital Art & Design.
After college, Travys enlisted into the US Air Force. He was an Aircraft Loadmaster on the Boeing C-17A Globemaster III, a massive military cargo jet. He required serious training, including basic military training (boot camp), Aircrew fundamentals, and Basic Loadmaster training in San Antonio, TX, followed by Combat Survival training in Spokane, WA and water survival training in Pensacola, FL, and finally C-17 Loadmaster training in Altus, OK. All that training took nearly a year to complete
After training, Travys was stationed at McChord AFB, WA where he would then deploy to fly in Operation Iraqi Freedom, Operation Enduring Freedom, and Operation New Dawn. During his deployment he hauled tanks, vehicles, helicopters, cargo, blood, mail, passengers, soldiers, generals, VIPs, refugees and much more, in and out of various countries in the Middle East. He was also part of the first crew to fly into a secret air base under night-vision circumstances. Travys got a chance to enjoy eating a camel for dinner at a local military general's house. He said it was "okay."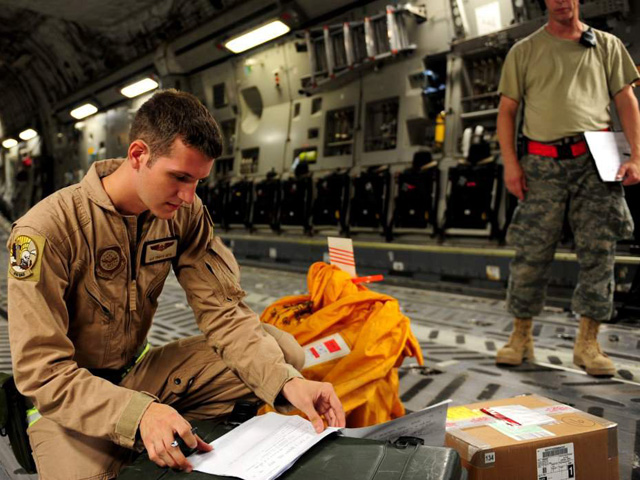 Originally from Maine, Travys relocated several times before finding his new home in Kansas City in 2012, right after he separated from the Air Force. Travys has a son and enjoys spending lots of time with him, especially playing baseball. On his free time, Travys likes to play video games, research strange topics, and enjoy movies.
---
Send Us A Note!