Retail Real Estate Rendering
Retail Real Estate 3D Rendering is a useful tool in marketing an existing location to a new tenant. These renderings can also be invaluable for showing buyers, the local government and permitters, or even contractors a precise idea of what you are planning to do. Trinity Animation has years of experience in creating exciting, visceral beauty shots of real estate renderings. Daytime or nighttime -interior or exterior.  Hyper real, or painterly and classically styled.
Real Estate 3D Rendering Process
Architectural rendering styles have a rich history, as builders and investors have always wanted to think about how a finished structure would look from certain views. The figure below is from 1902.
For the 3D process that Trinity employs, the first step is to construct a virtual model of all the elements that will be seen. The building shell is the top priority, and is usually built from some form of CAD files for new construction, or from CAD and drawings and photographs when the renderings will depict modifications to an existing structure.
Once the main structure is in place, the next step is to apply materials. Some projects like to try a variety of material schemes to help settle the choices. This is a modest budget addition in most cases. Some projects also like to experiment with tenant locations and storefronts, for which the 3D process is very efficient.
The scene can be populated with cars, people, furniture and signage. Much of this can come from Trinity's large stock model library, which can significantly reduce costs. Some clients prefer to browse through our selection, while others just use a service like google image search to find a representative photo of a chair that is close to what they want. Trinity will work with whatever process is easiest for our client.
Above is a shaded view of a retail real estate 3D rendering in its raw form – the way we view it as we construct it.
After some hours of computation, the lighting and materials are calculated for every pixel of the large format image. They yield a finished photo that is sharp, detailed and clean. Because it is a 3D scene, it is a simple matter to offer multiple angles, so long as the camera does not veer into areas where the shopping mall has not yet been fully modeled and detailed.
Often, an important part of the rendered result is something that implies an idea in process. Sometimes the photo real style is too finished looking in this case. Trinity has developed processes for getting a watercolor, pen & ink, or other illustration style that is based on a real estate 3D rendering. This gives the benefits of both worlds: easy to revise 3D scenes with an abstract and fanciful resulting canvas for presentation.
For example, this 3D rendered view below: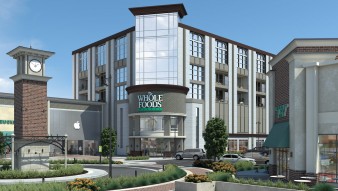 Will appear as below, after we add people and process it with a watercolor style.
Animations of 3D scenes can give even more of a sense of the layout and design for a proposed retail real estate project. In the animation below, the first segment includes both interior and exterior of a large shopping center. The second segment is an outdoor courtyard type of shopping center, and the lighting is animated to progress from day to night.
HD Animation is below.
\
---
Send Us A Note!