3 mins read
VR Anatomy Project Diary – Mozilla Grant Progress
This blog will update each time we post an update to our progress on the Mozilla Gigabit Grant for our VR Anatomy Project.
---
March 29, 2017 Update:
Major advances on this update, including
full hair, eyelashes and eyebrows on human, with realistic shading
idle movement of human character
all internals imported and textured: skeleton, muscles, organs, circulatory system
beating heart
Check out the update movie!
---
March 9, 2017 Update: skin, eyes, muscles and skeleton
For this update we've prepared a movie to show our progress. At this point we have:
Updated skin material
Higher res eye textures and new eye shader
Added Full Muscular system with materials (need to add SSS to it)
Added Full Skeletal system with high res normal maps for a very high quality model
Note that while we are showing the newly set up body systems side-by-side, eventually it will all be a single figure with show/hide options for each system. The environment will be more of an exam room design.

---
March 5, 2017 Update: Eyelashes, eyebrows, muscles
Although the model does not yet have hair, we have included the eyebrows and eyelashes. Also we worked on improving the skin materials, especially for close-up viewing. We have begun testing the first anatomical addition – the muscular system.
---
February 17, 2017 Update: Our first update on the virtual reality animation project!
We are using Unreal Engine to create the VR scene. The female anatomy comes from a highly detailed fully rigged character created for our past Anatomical and Medical animations.
We have the female skin transferred to working on our HTC Vive system. We also have the textures and materials rebuilt for the skin to get a reasonably good skin shader. The environment we are in currently contains only a physics test table and a 6′ monolith for checking dimension.
The hand controllers have skinned virtual representatives to view in the virtual reality world which closely echo the real handheld controllers with skins including the Trinity Animation logo and the Mozilla fox. Also these have flashlights on them to view and highlight parts of the anatomy. These will be switchable with the VIVE controller triggers eventually, with the left hand creating a laser pointer, and the right hand creating a flashlight. We also intend to set up the left hand controller to enable hide and unhide of the main body systems.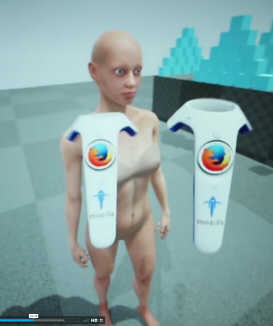 The scene is interactive and full VR already – you can teleport, walk around, move your head and body to view the character from any angle and highlight any element.
Our planned next steps are to add hair, eyelashes and eyebrows for a more realistic appearance of our VR Anatomy human model. After that, we will bring over the bones and muscular system and begin setting up the options for hiding and unhiding various elements of the character..
The movie below gives a great 2 minute tour of our current progress with our VR anatomy project. New updates will be forthcoming as we make progress!